Waynesboro Primary Care
Suite A01
15 Pratts Run
Waynesboro, VA 22980
Location Hours:
Monday - Friday | 8:15 a.m. - 4:30 p.m.
Same-day appointments and walk-ins for current patients, depending on availability (call ahead to check, if possible).
Give us 24-hour notice if you need to cancel or reschedule an appointment. Families with three consecutive no shows in a 12-month period may be discharged from the practice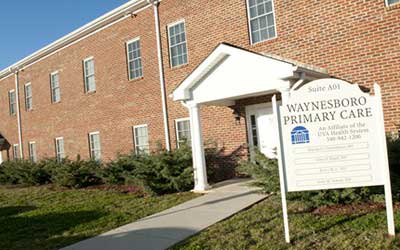 Parking: Free for patients and visitors.
Overview
Waynesboro Primary Care offers the highest qualitycare for you and your family in the comfort of your community. We provide primary care services and preventive health care for a broad range of health problems.
You'll also get easy access to specialists at UVA Children's Hospital and UVA Medical Center for complicated problems that need extra evaluation.
Services Offered
General Health
care
Checkups, medical exams and physicals
Immunizations
Allergy

care

and evaluation
Medication management
Adult physicals
Diabetes management
Cardiovascular disease management
Nutrition and healthy lifestyle counseling
Pre-operative evaluation
Integrative medicine
Children and Teens
We see patients over the age of 12.
Women's Health
Gynecological services
Pregnancy testing and counseling
Tests and Procedures
Patient Information
New Patients
We welcome new patients. Call our office at 540.942.1200 to schedule an appointment. To transfer your medical records to our office, use the Authorization for Release of Medical Records form or pick up a copy at the office. Make sure you have your records transferred to our office before your first appointment.
Your Medications
Please contact your pharmacy for most refill requests. For controlled medications (narcotics, amphetamines, etc.), contact our office directly.
Lab Results
You can view your results in MyChart. If you don't have MyChart access, you'll get your results by phone or mail.
Adolescent and Teen
Care
We provide care tailored to the needs of preteens, teens and young adults, including routine physicals for school, sports and college. View forms.