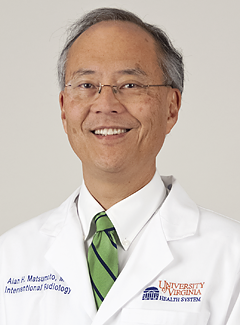 Alan H Matsumoto, MD
Practice Area: Radiology & Medical Imaging
Department:
Radiology and Medical Imaging
Division: Interventional Radiology, Angiography and Special
Title: Professor of Radiology
ABMS Certification: Internal Medicine, 1983; Diagnostic Radiology, 1987; Cardiovascular and Interventional Radiology, 1995
Contact Information
P.O. Box 800170
Charlottesville, VA 22908-0170
Phone: 434.243.4961 | Fax: 434.924.8349
Other Locations:
Focused Ultrasound Center
Uterine Fibroid Treatment Center
Biography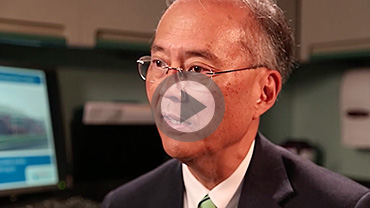 Alan H. Matsumoto, M.D. FSIR, FACR, FAHA, received his Bachelor's and Master's Degrees from the University of California at Santa Barbara, where he was elected to Phi Beta Kappa and Sigma Xi Honor Societies. After completing his Medical Degree in 1980 from Bowman Gray School of Medicine of Wake Forest University and being elected to the Alpha Omega Alpha Honor Society, Dr. Matsumoto completed Residencies in Internal Medicine at the University of Massachusetts and Diagnostic Radiology at the University of North Carolina. He also had additional Fellowship training in Vascular and Interventional Radiology at Georgetown University. Dr. Matsumoto is Board Certified in Internal Medicine, Diagnostic Radiology, and Cardiovascular & Interventional Radiology.
His clinical practice includes image-guided, minimally invasive therapy for arterial occlusive and aneurysmal disease inclusive of abdominal and thoracic aortic stent grafts; renal, peripheral, and mesenteric vascular disease; fibromuscular dysplasia of the renal arteries; DVT and PE thrombolysis and mechanical thrombectomy; IVC filters; embolization and MR guided focused ultrasound therapy for fibroids and other tumors.
He is a Professor of Radiology and Chair of the Department of Radiology at the University of Virginia. He has pioneered many novel and innovative, minimally invasive, image-guided procedures during his 20 years at the University of Virginia, many of which have become incorporated into practice at many nationally recognized medical facilities. He has published more than 180 articles and book chapters and has trained more than 100 Residents and Fellows. His patient-oriented, multidisciplinary collaboration with other medical specialists has led to optimization of care in patients with complex diseases. Consultatons with Dr. Matsumoto can be arranged by calling 434-982-0211 or his Nurse Practitioner colleague, Dot Cage, ACNP at 434-243-2795 or via email at ahm4d@virginia.edu or dlc3y@virginia.edu, respectively.
Watch this video to learn more about Dr. Matsumoto.
Related Media:
UVA Uterine Fibroid Clinic: Focused Ultrasound and Gloria's Story
UVA Uterine Fibroid Clinic: Abena's Story
UVA Uterine Fibroid Clinic Overview
UVA Imaging: Offering MRI, X-ray, Ultrasound and Other Medical Imaging at Community Clinics
Awards
2015 Best Doctors in America® List