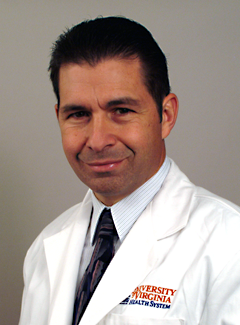 Bruce D Schirmer, MD
Practice Area: Cancer, Digestive Health
Department:
Surgery
Division: General Surgery
Title: Professor of Surgery
ABMS Certification: Surgery, 1986
Contact Information
Primary Location:
UVA Surgical Care
Fourth Floor
1300 Jefferson Park Ave.
Charlottesville, VA 22903
Phone: 434.924.2104 | Fax: 434.243.9433
Biography
On faculty at University of Virginia since 1985. Currently Stephen H. Watts Professor of Surgery, Vice-Chair, Department of Surgery,  and Residency Training Program Director, Surgery. Interested in seeing patients with all types of gastrointestinal problems, candidates for obesity surgery, and candidates for laparoscopic abdominal surgery. Current Director of the American Board of Surgery. Past President of Society of Gastrointestinal and Endsocopic Surgeons (SAGES), American Hepato-Pancreato-Biliary Association (AHPBA), and Society of Clinical Surgery.  Current President of Fellowship Council, SAGES Foundation. Past officer in Society for Surgery of the Alimentary Tract (SSAT).  Editorial board member of six surgical journals. Co-Director, Surgery Nutrition Support Service.
Married to my wonderful wife Geri since 1975. Children Kate Lynn (1981) and Liza (1984) are the best things to which I have contributed.
Awards
2011, 2012, 2013, 2014 Best Doctors in America® List