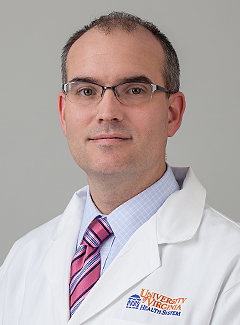 Bryan G. Sauer, MD, MS
Practice Area: Cancer, Digestive Health
Department:
Medicine
Division: Gastroenterology and Hepatology
Title: Assistant Professor of Medicine
ABMS Certification: Internal Medicine
Contact Information
Primary Location:
Digestive Health Center
1215 Lee St.
Charlottesville, VA 22908
Phone: 434.243.3090 | Fax: 434.244.9445
Biography
Bryan G. Sauer received a Bachelor of Science from Western Michigan University and a Medical Degree from the University of Wisconsin. He then pursued training in internal medicine and gastroenterology at the University of Virginia, where he also obtained a Master of Science in Clinical Research. Following his gastroenterology fellowship, he pursued additional training in advanced endoscopy focused on endoscopic ultrasound. He currently is an Assistant Professor of Medicine at the University of Virginia with research and clinical interests in the use of endoscopic ultrasound. Outside of work, he enjoys time with his wife and three young children.