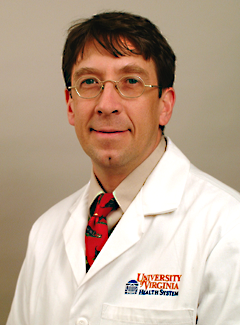 Biography
Dr. Kern is originally from Pennsylvania and completed his undergraduate studies at The Pennsylvania State University and medical school at the University of Virginia. He completed his surgical training at the University of Virginia and is board certified in general surgery, cardiothoracic surgery and vascular surgery. He joined the faculty in 1998 and is presently surgical director of the Heart and Vascular Center, surgical director of UVA's Heart Transplant Program, and medical director of the Non-Invasive Vascular Lab. He is also medical director of the Physician Assistant Program in the Division of Thoracic Cardiovascular Surgery. Dr. Kern has been awarded the Dean's Award for Clinical Excellence and is a member of the University of Virginia's Academy of Distinguished Educators. He has been voted the Surgical Attending of the Year twice by the graduating surgical chief residents.
He is a member of all of the major cardiac and vascular surgical societies and has active committee memberships with the Society of Thoracic Surgeons, the American Association for Thoracic Surgery, the South Atlantic Cardiovascular Society, and is a past-president of the Virginia Vascular Surgical Society. Dr. Kern has been a peer reviewer for The Annals of Thoracic Surgery, the Journal of Thoracic and Cardiovascular Surgery, Circulation, the Journal of Surgical Research, and the Journal of Vascular Surgery.
Dr. Kern's clinical interests are diverse and include all aspects of adult cardiac surgery including coronary artery disease and coronary artery bypass surgery, aortic and mitral valve disease, heart failure, heart transplantation and left ventricular assist devices, thoracic aortic aneurysms and valve sparing techniques, as well as stent grafting for thoracic aortic aneurysms and dissections. He has a particular interest in new therapies for aortic dissections and trans-catheter aortic valve replacement. In addition to his busy cardiac surgical practice, Dr. Kern also cares for patients with all aspects of vascular disease including aortic aneurysmal and occlusive disease, peripheral vascular disease, cerebral vascular disease, renal artery disease, mesenteric vascular disease and median arcuate ligament syndrome, and he has a special interest in thoracic outlet syndrome.
Dr. Kern and his team see patients every Monday at the Heart and Vascular Center on the second floor of the University of Virginia Medical Center. He operates Tuesday through Friday. The administrative office hours are from 8 a.m. to 4:30 p.m. Monday through Friday.
Awards
2014, 2013, 2012, 2011 Best Doctors in America® List
Publications