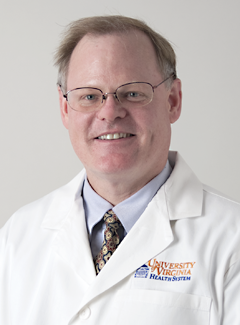 Paul W. Read, MD
Practice Area: Cancer
Department:
Radiation Oncology
Division: General Radiation Oncology Appointment
Title: Associate Professor of Radiation Oncology and Otolaryngology Head and Neck Surgery
ABMS Certification: Radiation Oncology
Contact Information
P.O. Box 800383
Charlottesville, VA 22908-0383
Phone: 434.924.5191 | Fax: 434.982.3262
Biography
Dr. Paul W. Read obtained his undergraduate, medical, and PhD doctoral degrees from the University of Virginia and also performed his Radiation Oncology Residency at UVA. He is dedicated to resident education. His research interests include reducing toxicity and side effects from radiation therapy treatment and developing new strategies to make radiation therapy more effective and convenient.