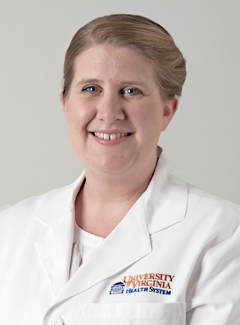 Traci L. Hedrick, MD
Practice Area: Cancer, Digestive Health
Department:
Surgery
Division: General Surgery
Title: Assistant Professor of Surgery
Contact Information
P.O. Box 800709
Charlottesville, VA 22908
Phone: 434.243.2670 | Fax: 434.924.2520
Biography
Dr. Hedrick is originally from Huntington, WV. She received both her undergraduate and medical degrees from the University of Kentucky, where she graduated valedictorian of her medical school class in 2002. She completed her general surgery training and a two-year postgraduate research fellowship at the University of Virginia. She then completed a fellowship in Colon and Rectal Surgery at the University of Pennsylvania. She returned to the University of Virginia as an Assistant Professor of Surgery in 2010.
Dr. Hedrick specializes in the treatment of colorectal conditions with a special focus on minimally invasive surgery including laparoscopy, transanal endoscopic microsurgery, and colonoscopy.
Dr. Hedrick is interested in medical student and resident education, having received multiple awards for excellence in education. Her research interests include the prevention/treatment of surgical infections, specifically surgical site infections, which contribute greatly to the complications associated with colorectal surgery. She has made over 25 national and international presentations of her research and has over 30 peer-reviewed publications.
Awards
American Medical Women's Association Glasgow Memorial Award
William Dion Outstanding Intern Award
Curtis Tribble Award for Medical Student Education
Society of Critical Care Medicine Citation Award Finalist
Mulholland Resident Teaching Award 2007 and 2009
2007 Academic Achievement Award
Skip Warren Award for Chief Resident
2009 Association Women Surgeons Outstanding Resident Award
Publications