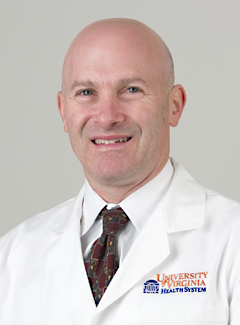 Christopher M Kramer, MD
Practice Area: Children's, Heart and Vascular, Radiology & Medical Imaging
Department: Medicine, Radiology and Medical Imaging
Division: Cardiovascular Medicine, Noninvasive Cardiovascular Imaging
Title: Ruth C. Heede Professor of Cardiovascular Medicine
ABMS Certification: Internal Medicine; Cardiovascular Diseases
Contact Information
Primary Location:
Heart and Vascular Center
Second Floor
1215 Lee St.
Charlottesville, VA 22908
Phone: 434.243.1000 | Fax: 434.244.7551
Other Locations:
Echocardiography Lab
Biography
After receiving his A.B. from Harvard University and his M.D. from the University of California, San Francisco, Dr. Christopher Kramer completed residency and chief residency in internal medicine and fellowship in cardiology at the University of Pennsylvania. His initial faculty position was at Allegheny General Hospital, MCP/Hahnemann School of Medicine, in Pittsburgh, where he directed the cardiology fellowship program. In 1999, he moved to UVA where he is professor of radiology and medicine and director of the Cardiovascular Imaging Center. Dr. Kramer's principle research interest has been in the application of magnetic resonance imaging to the cardiovascular system in studies ranging from small animals to man and he has published 3 books, 131 peer-reviewed publications, and over 60 book chapters, editorials, and reviews in the area of left ventricular remodeling and myocardial viability, atherosclerotic plaque imaging, and imaging of peripheral arterial disease. His research is supported by the NIH and the AHA. He is chair of the ACC Imaging Council and a past president of the Society for Cardiovascular Magnetic Resonance. He is also associate editor of Journal of the American College of Cardiology (JACC) - Cardiovascular Imaging, a member of the editorial board of JACC, JAHA, Circulation Cardiovascular Imaging, and JCMR, and a member of the American Society for Clinical Investigation and the Association of University Cardiologists.

Outside of his academic practice, Dr. Kramer enjoys a wide variety of sports including skiing, tennis, golf, swimming, and biking; music; and spending time with his family in the great outdoors.
Awards
2015 Best Doctors in America® List
2010 Association of University Cardiologists
2010 Simon Dack Award, Journal of the American College of Cardiology
2006 American Society of Clinical Investigation
2004 Elite Reviewer, Journal of the American College of Cardiology
2004 J. Edwin Wood Jr. Teaching Award, University of Virginia Cardiovascular Division
1999 Merck Angiotensin II Young Investigator's Award
1996 Claude R. Joyner Cardiovascular Scholar, Allegheny General Hospital
1982 Magna Cum Laude 1985 Alpha Omega Alpha, elected as a junior
1981 Rhodes and Marshall Scholarship Finalist
1981 Phi Beta Kappa, elected as a junior