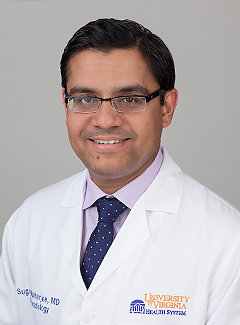 Sugoto Mukherjee, MD
Practice Area: Neurosciences, Radiology & Medical Imaging
Department:
Radiology and Medical Imaging
Division: Neuroradiology
Title: Associate Professor of Radiology
Contact Information
P.O. Box 800170
Charlottesville, VA 22908-0170
Phone: 434.924.9377 | Fax: 434.982.1618
Biography
Dr. Mukherjee is a neuroradiologist with four years of experience. His expertise and interests are in head and neck imaging, CT perfusion in head neck cancers, stroke and vascular imaging and a wide variety of head neck and spine procedures.
He is a clinician but is also responsible for training residents and fellows, participating in tumor boards and multidisciplinary conferences. He is currently involved in multiple research projects in Head Neck imaging.