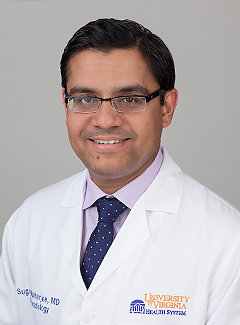 Sugoto Mukherjee, MD
Practice Area: Neurosciences, Radiology & Medical Imaging
Department:
Radiology and Medical Imaging
Division: Neuroradiology
Title: Associate Professor of Radiology
Contact Information
P.O. Box 800170
Charlottesville, VA 22908-0170
Phone: 434.924.9377 | Fax: 434.982.1618
Biography
Dr. Mukherjee is the Director of the Division of Neuroradiology. His expertise and interests are in head and neck imaging, CT perfusion in head and neck cancers, stroke and vascular imaging and a wide variety of head and neck and spine procedures.
In addition to being a clinician, he is also responsible for training residents and fellows, participating in tumor boards and multidisciplinary conferences. He is currently involved in multiple research projects in head and neck imaging.