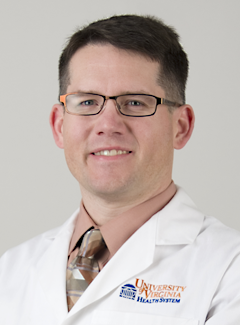 Thomas Jason Druzgal, MD, PhD
Practice Area: Neurosciences, Radiology & Medical Imaging
Department:
Radiology and Medical Imaging
Division: Neuroradiology
Title: Assistant Professor
Contact Information
P.O. Box 800170
Charlottesville, VA 22908
Phone:
434.982.1736
Biography
Dr. Druzgal trained in Diagnostic Radiology and Neuroradiology at the University of Utah. He is an expert in advanced brain imaging techniques, with extensive clinical and research experience in functional MRI. His research program focuses on using resting state fMRI in the evaluation of cognitive disorders. His clinical expertise also includes head and neck imaging, spine imaging, and diagnostic procedures involving the head, neck, and spine.