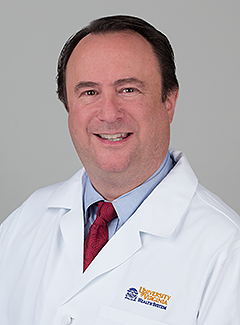 Adam B. Winick, MD
Department:
Radiology and Medical Imaging
Division: Body Imaging
Title: Attending
ABMS Certification: Diagnostic Radiology; Vascular & Interventional Radiology
Contact Information
Primary Location:
Radiology and Medical Imaging
First Floor
1215 Lee St.
Charlottesville, VA 22908
Biography
Dr. Winick is an associate professor, recently coming to UVA from private practice in Northern Virginia. He is the director of our new UVA Radiology Community Division and also serves on the Board of Trustees for Fauquier Hospital in Northern Virginia.
Dr. Winick's primary research interest is focused on the investigation of acute gastrointestinal hemorrhage to determine clinical scenarios to increase specificity of mesenteric angiography. He also has given a resident lecture series concerning the business of radiology and private practice.
Awards
2017-2018 Best Doctors in America® List