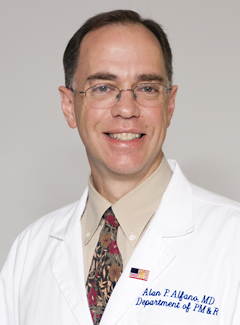 Alan P Alfano, MD
Department:
Physical Medicine and Rehabilitation
Division: General Physical Medicine and Rehabilitation Appointment
Title: Professor of Physical Medicine and Rehabilitation
ABMS Certification: Physical Medicine and Rehabilitation, 1993;
Other Appointment: Medical Director UVa HealthSouth Rehabilitation Hospital
Contact Information
P.O. Box 801004
Charlottesville, VA 22908-1004
Phone: 434.243.5656 | Fax: 434.243.5674
Biography
Dr. Alan Alfano is the medical director of UVA-HealthSouth Rehabilitation Hospital, where he works with patients in need of general, orthopedic and geriatric rehab. His outpatient work focuses on managing spasticity — a muscle control disorder that involves tight or stiff muscles — and the use of intrathecal baclofen, a medication that helps relax certain muscles in the body. He is an associate professor and is board-certified in physical medicine and rehabilitation.
Born and raised on Long Island, NY, Dr. Alfano completed his undergraduate studies at Adelphi University in Garden City, NY. He earned his medical degree at Jefferson Medical College in Philadelphia, where he learned about physical medicine and rehabilitation and was inspired to specialize in that field. Dr. Alfano completed his internship and residency at Nassau County Medical Center in East Meadow, N.Y., where he served as a chief resident. He worked in private practice in Fredericksburg, VA., before he was recruited to join the faculty at the University of Virginia in 1996.
Outside of work, Dr. Alfano enjoys spending time with family, playing guitar, working around his house and teaching Sunday school at church.
Awards
2015-2018 Best Doctors in America® List