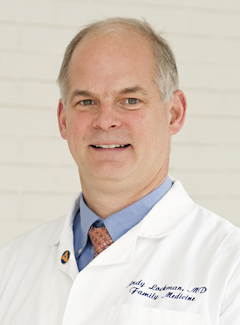 Andrew Lockman, MD
Department: Family Medicine, Primary Care Offices
Division: General Family Medicine Appointment, General Primary Care Offices Appointment
Title: Assistant Professor of Clinical Family Medicine
ABMS Certification: Family Medicine, 1994, 2001
Contact Information
Primary Location:
Crossroads Family Medicine
Crossroads Corner Shops
4916 Plank Rd.
North Garden, VA 22959
Phone: 434.243.4660 | Fax: 434.977.3703
Biography
Little did I know of the riches that Charlottesville and the University of Virginia had in store for me when I arrived here in 1987 to begin medical school. I have discovered and rediscovered my career here several times. First, due in large part to the mentoring and leadership of our Family Medicine department, I was drawn to Family Practice as a student and was fortunate to be able to continue my training here as a resident. Experiences throughout my training reawakened my love of teaching, leading to a Faculty Development fellowship that I completed in 1995. Since 1995, I have been the medical director at Crossroads Family Practice, one of our department's three satellites. Crossroads is located in southern Albemarle County, and was a natural site to begin a rural track in our residency. Starting in 2000, one resident from each class has joined Crossroads after internship to complete their clinic training there as one of our partners. Each of these graduates has gone on to practice in a rural or semi-rural community, six of them in Virginia. Crossroads was one of 36 sites chosen nationwide in 2006 to participate in the AAFP's National Demonstration Project, a two-year innovative practice redesign study of Patient Centered Medical Homes. My interest in clinic redesign led to my 2010 appointment as our department's vice chair of Clinical Affairs. On a personal note, I met my wife Debbie during medical school. We married in 1993 and have shared music, sports (we both compete in local triathlons) and the joys of parenthood for Matthew (1995) and Emma (1997). With all that Albemarle County offers — through University recreational programs, excellent public schools, and other family activities — we feel that we have really planted roots here.
Awards
2015-2018 Best Doctors in America® List
2011 Teacher of the Year, Virginia Academy of Family Physicians
2010 Steven Meixel Teaching Award
2004 Residency Teaching Award
2002 Dean's Award for Clinical Excellence
2000 Excellence in Teaching Award
1995 Dean's Award for Excellence in Teaching
Publications