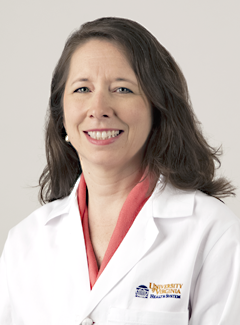 Ann L Kellams, MD
Practice Area: Children's
Department:
Pediatrics
Division: General Pediatrics
Title: Assistant Professor of Pediatrics, CF
ABMS Certification: Pediatrics
Other Appointment: Medical Director of Newborn Nursery
Contact Information
Primary Location:
UVA Pediatrics
Sixth Floor
1204 W. Main St.
Charlottesville, VA 22908
Phone: 434.924.5899 | Fax: 434.982.4339
Other Locations:
Breastfeeding Medicine Program
Biography
Dr. Kellams is a board certified pediatrician and an internationally board certified lactation consultant. She has been in general pediatrics since 1995 in both a private group practice setting as well as in academia here at UVA.
She serves as the Medical Director of the Newborn Nursery since 2006, and she is involved at the state level as the American Academy of Pediatrics Chapter Breastfeeding Coordinator and prior education chair and as a member of the State Breastfeeding Advisory Committee for the Virginia Department of Health.
She is a mother of three children, two girls and a boy, and her husband is a family physician here in Charlottesville. Her interests include cooking, movies, dancing, wine-tasting and reading. She was born and raised in Texas and is still a Texan at heart, but loves living in beautiful Charlottesville.
Watch this video to learn more about Dr. Kellams.