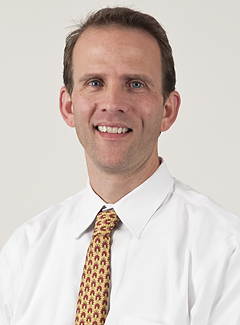 Biography
Barrett H. Barnes, MD, is a pediatric gastroenterologist who is board-certified in general pediatrics and pediatric gastroenterology. In addition to his clinical practice, he is the associate program director for the general pediatric residency program. Dr. Barnes also founded a multidisciplinary clinic for children with gastrointestinal allergic disorders, including eosinophilic esophagitis, which he co-directs with faculty members of the Division of Asthma, Allergy and Immunology.
An Indiana native, Dr. Barnes completed his undergraduate studies at Indiana University and his graduate studies at the University of California, Los Angeles. He earned his medical degree from Rutgers New Jersey Medical School and completed his residency in general pediatrics at the University of Virginia. His fellowship training in pediatric gastroenterology took him to the Children's Hospital at the University of Colorado, Denver. He returned to UVA and joined the faculty in 2007.
Outside of work, Dr. Barnes enjoys spending time with his two daughters, as well as hands-on projects in carpentry, hardscaping, woodworking, masonry, electrical work and fishing. A team sports fan, Dr. Barnes is also a member of the pediatric softball team.
Awards
2015-2018 Best Doctors in America® List
2015 Bedside Manner Award, Our Health Magazine; Third place