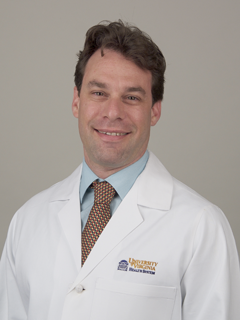 Barrett J. Zlotoff, MD
Practice Area: Dermatology
Department:
Dermatology
Division: General Dermatology Appointment
Title: Associate Professor
ABMS Certification: Dermatology
Contact Information
Primary Location:
Dermatology
University Hospital
Third Floor
1221 Lee St.
Charlottesville, VA 22908
Other Locations:
Zion Crossroads Primary and Specialty Care
Biography
Dr. Zlotoff treats a wide array of pediatric dermatology issues, including: acne, eczema, skin infections, warts, molluscum, psoriasis, mastocytosis, birthmarks, moles, hair and nail diseases, lichen sclerosus, ichthyosis and other genetic skin diseases. He is an expert in the diagnosis and treatment of hemangiomas, venous malformations, lymphatic malformations and other vascular malformations and tumors. He completed a fellowship in pediatric dermatology at the University of California at San Francisco, which included training in the treatment of vascular malformations with lasers.