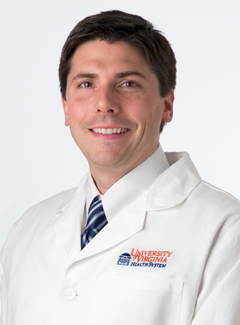 Biography
Dr. Brian Behm is a gastroenterologist focused on treating patients with inflammatory bowel disease (IBD), which is also his main clinical research interest. He is an associate professor of gastroenterology, in which he is board-certified.
Dr. Behm was born and raised in northeast Ohio. He completed his undergraduate studies at Cornell University, graduating with distinction. He earned his medical degree at the University of Virginia, then completed an internal medicine residency at the University of California, San Francisco. He returned to UVA for his gastroenterology fellowship, joining the faculty thereafter in 2006. He went on to earn a master's degree in health evaluation from UVA in 2007.
A husband and a father, Dr. Behm lives in Charlottesville.
Publications