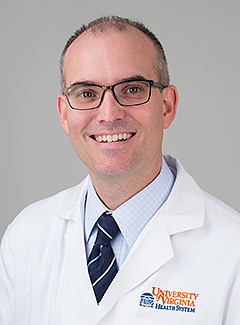 Bryan G. Sauer, MD, MS
Practice Area: Digestive Health, Cancer
Department:
Medicine
Division: Gastroenterology and Hepatology
Title: Associate Professor
ABMS Certification: Internal Medicine, 2006 Gastroenterology, 2009
Contact Information
Primary Location:
Digestive Health Center
1215 Lee St.
Charlottesville, VA 22908
Phone: 434.243.3090 | Fax: 434.244.9410
Biography
Dr. Sauer grew up in Oconomowoc, WI and graduated from Western Michigan University before attending medical school at the University of Wisconsin. He moved to Charlottesville, VA, to pursue residency in internal medicine and a fellowship in gastroenterology at the University of Virginia. During fellowship, he also obtained a Master of Science in Clinical Research from UVA. Following his fellowship, he completed a year of advanced endoscopy training at UVA and joined the faculty in 2010.
His practice focuses primarily on endoscopic ultrasound, Barrett's esophagus and advanced endoscopic procedures. He serves as the co-medical director of endoscopy and is actively involved in quality and efficiency research in endoscopy. In addition, he is a member of the board of directors of two small non-profit organizations: King's Palace, which helps children in El Salvador and Asha International, which supports a hospital in India. Outside of work, he enjoys time with his wife Betsy and his three children.
Awards
2015 Leadership in Academic Matters Fellow, University of Virginia Office of the Provost
2013 Endoscopy Teacher of the Year, University of Virginia
Publications