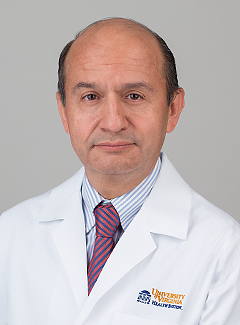 Camilo E. Fadul, MD
Department:
Neurology
Division: General Neurology Appointment
Title: Professor
ABMS Certification: Neurology
Contact Information
P.O. Box 800394
Charlottesville, VA 22908
Other Locations:
Neuro Oncology
Adult Neurology Clinic
Biography
I was born and raised in Bogota, Colombia. While there, I received my medical degree from the School of Medicine of Universidad del Rosario. I completed my rotatory internship in Hospital Militar Central, followed by a one-year social service tour in rural Colombia.
I completed my residency training in neurology at the Hospital Militar Central in Colombia and Dartmouth Hitchcock Medical Center in New Hampshire. I completed a fellowship in neuropathology and neuro-oncology at Vanderbilt University, followed by a two-year neuro-oncology fellowship at Memorial Sloan-Kettering Cancer Center. I was a professor of medicine (hematology/oncology) and neurology (Department of Neurology) at Geisel School of Medicine at Dartmouth and Dartmouth-Hitchcock Medical Center. I joined UVA's Division of Neuro-Oncology in September 2014 after more than 20 years as the director of the neuro-oncology program at Norris Cotton Cancer Center.
My wife and I have two daughters. In my free time, I enjoy tennis, biking and playing chess.
Awards
2017-2018 Best Doctors in America® List