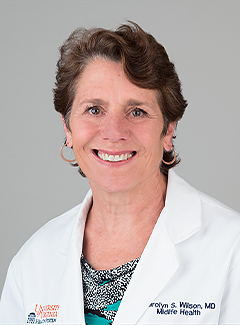 Carolyn S Wilson, MD
Department:
Obstetrics and Gynecology
Division: Midlife Health
Title: Assistant Professor
ABMS Certification: American Board of Obstetrics and Gynecology
Contact Information
Primary Location:
Midlife Health
UVA Medical Park Northridge
Suite 104
2955 Ivy Rd.
Charlottesville, VA 22903
Phone: 434.243.4720 | Fax: 434.243.4733
Biography
Carolyn Wilson, MD, grew up in Hampton, Virginia. She received her undergraduate degree from Kenyon College before completing medical school at Virginia Commonwealth University and residency training at Duke University. She was at Duke University for two years prior to moving to Clarke County, Virginia in the Shenandoah Valley.
From 1993-2002, Wilson practiced OB/GYN in Winchester, VA. Beginning in 2002, she limited her practice to gynecology.
Wilson joined the UVA OB/GYN faculty in 2010, as part of the Division of Midlife Health. She is a NAMS certified menopause practitioner and serves on the executive committee for the South Atlantic Association of Obstetricians and Gynecologists. Wilson enjoys providing specialty care to women in the perimenopausal and menopausal years, incorporating the unique physical, emotional and social aspects of each woman in their healthcare decisions.
In her spare time, Wilson enjoys ultra running, traveling, reading and gardening. She is married and has three children.