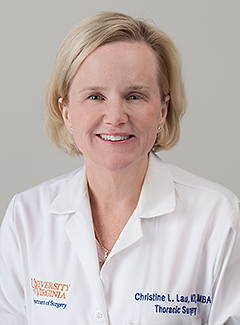 Christine L Lau, MD
Department:
Surgery
Division: Thoracic and Cardiovascular Surgery
Title: Professor of Surgery
ABMS Certification: Surgery; Thoracic Surgery
Contact Information
Primary Location:
Emily Couric Clinical Cancer Center
1240 Lee St.
Charlottesville, VA 22903
Phone: 434.924.8016 | Fax: 434.244.9429
Biography
Dr. Christine Lau is a Professor of Surgery in the Division of Thoracic & Cardiovascular Surgery at the University of Virginia. She specializes in all aspects of general thoracic surgery and is board certified in general and thoracic surgery. She has consistently been a Top Cancer and Top Doctor in America since 2011.
Dr. Lau received her medical degree from Dartmouth Medical Center in Hanover, NH. She received numerous awards while she was there, including being elected to Junior AOA and receiving the Janet M. Glasgow Memorial Award for graduating first in her medical school class. She subsequently did her internship and residency in general surgery at Duke University Medical Center in Durham, NC. After completing her general surgery training, she went to Washington University in St. Louis, one of the premier lung transplant programs in the world and spent a year doing a lung transplant fellowship, as well as her fellowship in cardiothoracic surgery, which she finished in 2005. Dr. Lau had an academic appointment at the University of Michigan Medical Center in Ann Arbor, MI as an assistant professor of surgery prior to joining the University of Virginia. While she was at the University of Michigan she was voted one of Detroit's top thoracic surgeons by Hour Detroit Magazine.
Dr. Lau has authored and coauthored several chapters in medical textbooks on her specialty interests which include lung cancer, esophageal cancer, mediastinal diseases, lung volume reduction, laparoscopic surgery and lung transplantation. Her articles have been published in leading publications such as the Journal of Thoracic & Cardiovascular Surgery, Annals of Thoracic Surgery, the American Journal of Respiratory & Critical Care Medicine and the American Journal of Transplantation.
In 2006, she was awarded the John Kirklin Fellowship given by the American Association of Thoracic Surgery. In 2008, she was awarded a K08 from the NIH to study mechanisms of chronic rejection in lung transplants. More recently, she has obtained ROI funding to develop novel treatments for lung transplant recipients. Dr. Lau is a member of the American Association of Thoracic Surgeons, American College of Surgeons, Society of Thoracic Surgeons, Women in Thoracic Surgery, the International Society of Heart & Lung Transplantation, the Southern Thoracic Surgical Association, the American Society of Transplant Surgeons and the Alpha Omega Alpha Medical Honor Society. She is also a founding member of the Mosenthal Surgical Society, a member of the Sabiston Surgical Society and a member of the John Alexander Surgical Society.
Awards
2012 Best Doctors in America® List
2015 One of America's Top Cancer Doctors, Newsweek®