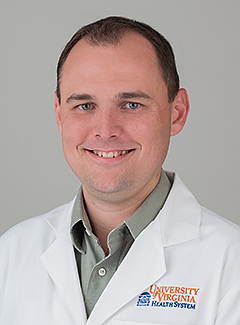 Christopher J. Arnold, MD
Department:
Medicine
Division: Infectious Diseases and International Health
Title: Assistant Professor
ABMS Certification: Internal Medicine; Infectious Disease
Contact Information
P.O. Box 801340
Charlottesville, VA 22908
Phone: 434.982.1700 | Fax: 434.924.0075
Biography
Christopher J. Arnold, MD, is the son of missionary parents and was born and raised in West Africa. He completed his undergraduate education at the University of Georgia and then moved to Charlottesville, VA to attend medical school at the University of Virginia. Following this, he remained at UVA where he completed his residency training in internal medicine in 2011. He was selected as chief resident and completed his chief resident year in 2012. He then moved to Durham, NC where he completed his fellowship in infectious diseases at Duke University Medical Center.
Dr. Arnold joined the UVA clinical faculty in 2015. His clinical focus is in the area of caring for patients with general infectious disease problems, HIV and hepatitis C in both inpatient and outpatient settings. His research focuses have included clinical research in the areas of endocarditis and blood stream infections.
Publications