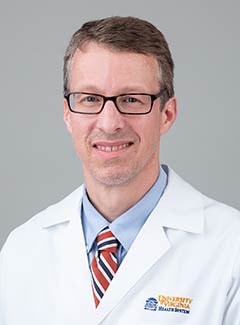 Christopher R. McCartney, MD
Department:
Medicine
Division: Endocrinology and Metabolism
Title: Associate Professor of Medicine
ABMS Certification: Endocrinology, Diabetes and Metabolism
Contact Information
Primary Location:
Diabetes and Endocrine Clinic
Fontaine Research Park
Second Floor, Suite 2100
415 Ray C. Hunt Dr.
Charlottesville, VA 22903
Phone: 434.924.1825 | Fax: 434.924.9616
Biography
Dr. McCartney went to medical school and completed residency training in internal medicine in his home state of Mississippi. In 1999 he came to the University of Virginia for a fellowship in endocrinology and metabolism, which he completed in 2002. Originally planning to return to the University of Mississippi as a clinician-educator, he decided to stay in Charlottesville to pursue clinical research and his passion for teaching and mentorship. Over the last decade he has increasingly become involved with education of medical fellows (in addition to medical student and resident teaching).
Awards
2015-2018 Best Doctors in America® List