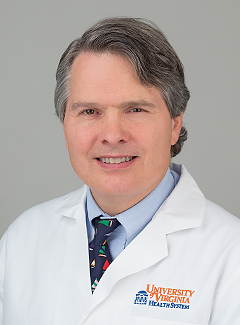 Craig L. Slingluff Jr., MD
Department:
Surgery
Division: Surgical Oncology
Title: Professor of Surgery
ABMS Certification: Surgery, 1992
Other Appointment: Vice Chair for Research, Department of Surgery
Contact Information
Primary Location:
Emily Couric Clinical Cancer Center
1240 Lee St.
Charlottesville, VA 22903
Phone: 434.924.1730 | Fax: 434.243.6844
Biography
Dr. Craig Slingluff is the Joseph Helms Farrow Professor of Surgery at UVA Health System, where he serves as the vice-chair for research in the Department of Surgery, director of the UVA Cancer Center Human Immune Therapy Center, and co-chair of the Melanoma Committee of ECOG. He has 20 years of experience as a surgical oncologist and as an independent investigator in cancer immunology and immunotherapy, all at UVA.
His research work includes laboratory studies and clinical trials, focused primarily on developing melanoma vaccines and combination immunotherapy, with extensive correlative studies. Since 1996, he has run 19 investigator-initiated clinical trials, most of which have been for melanoma vaccines, especially involving melanoma peptides. These studies have all included intensive immunologic correlates based on evaluating immunologic response in multiple tissue compartments. A major focus of his work now is on characterizing the metastatic melanoma microenvironment, especially including the molecular mediators of immune dysfunction versus tumor rejection.
As a surgical oncologist, he facilitates collection of human tumor tissue for research, and has collected a large human tissue resource for ongoing and future correlative studies. This includes tumor microarrays linked to clinical outcome data. He is dedicated to development of new technologies and therapies for melanoma and other cancers. He has mentored over 20 research fellows and he has been funded continuously by the National Cancer Institute for 20 years for his work in translational and clinical research.
Awards
2011-2018 Best Doctors in America® List
2015 One of America's Top Cancer Doctors, Newsweek®
Publications