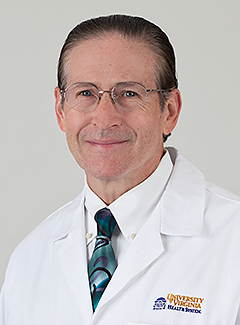 Curtis G Tribble, MD
Department:
Surgery
Division: Thoracic and Cardiovascular Surgery
Title: Professor of Surgery
ABMS Certification: Surgery, 1986, 1995; Thoracic Surgery, 1988, 1996, Surgical Critical Care, 1988
Other Appointment: Vice Chair for Education
Contact Information
P.O. Box 800709
Charlottesville, VA 22908-0709
Phone: 434.924.2145 | Fax: 434.982.3885
Biography
I come from a surgical family, with a father and two brothers who are also surgeons. I have lived in every state in the Southeast at least once, except for Alabama. However, most of my family resides in Columbia, SC. I attended Presbyterian College, where I majored in English and Biology before graduating from Vanderbilt University School of Medicine. I arrived at UVA in 1980 to train in General Surgery and Thoracic and Cardiovascular Surgery. While working at UVA, I have been very involved in medical education at all levels. I was Director of the Surgical Clerkship, Program Director of the Surgical Residency, Associate Program Director of the Thoracic and Cardiovascular Residency and Vice Chair of the Department of Surgery.
After taking opportunities at the University of Florida and the University of Mississippi, I decided to re-join the UVA faculty and help with the thoracic and cardiovascular surgery training program. I will also be helping with the heart and lung transplant program, as I not only helped start those programs here 25 years ago, but also have been involved in this sort of work when at the universities of Florida and Mississippi.

My wife, Megan, graduated from nursing school at UVA in the 1980s and worked in the operating room for several years before starting a Montessori school in Charlottesville. We are the proud parents of three teenaged sons.
Awards
2015-2018 Best Doctors in America® List