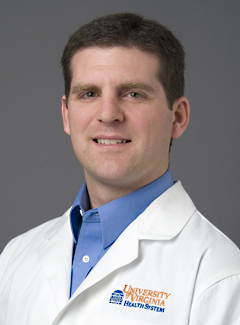 Biography
Curtis Argo, MD, specializes in general and transplant hepatology and is board certified in gastroenterology and hepatology and transplant hepatology. He is the program director for the Transplant Hepatology Fellowship Program at UVA and medical director for Living Donor Liver Transplantation.
Born and raised in Sioux City, IA, Dr. Argo completed his undergraduate studies at Carleton College in Northfield, MN. He earned his medical degree from the University of Iowa College of Medicine, completing his internal medicine residency there and serving as chief resident during his final year. Dr. Argo completed his gastroenterology and hepatology fellowship at the University of Virginia and joined the faculty of the gastroenterology and hepatology division in 2007.
Throughout his undergraduate degree at Carleton College, Dr. Argo played Division III collegiate baseball. Now married with three children, he enjoys volunteering as a Little League baseball coach. His other hobbies include running and playing folk guitar.