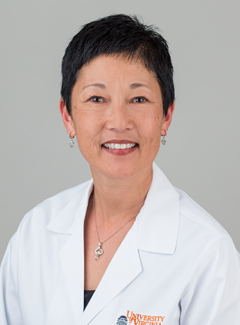 Biography
Dr. Yoshida was born and raised in Southern California. She received her undergraduate degree at the University of California, Davis and her medical degree from the University of Kansas in Kansas City, KS. She completed her gastroenterology fellowship training at the University of Virginia Health Sciences Center, and she is board certified is gastroenterology, as well as a fellow of the American Gastroenterological Association.
Dr. Yoshida has served on a number of committees for the American Gastroenterological Association (AGA) and has been an active member of the American College of Gastroenterology and American Society for Gastrointestinal Endoscopy. She is the author of No More Digestive Problems, the AGA's first consumer book specifically designed to address women's digestive health.
She is married and has two children and is interested in travel. She has also volunteered in Nicaragua, India and Romania.
Dr. Yoshida also provides care at UVA Endoscopy Monroe Lane.
Awards
University of Virginia Dean's Award for Teaching Excellence
Dean's Award for Clinical Excellence