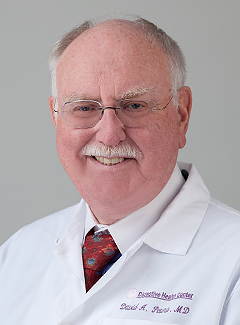 David A Peura, MD
Department:
Medicine
Division: Gastroenterology and Hepatology
Title: Professor Emeritus of Internal Medicine
ABMS Certification: Internal Medicine, 1974; Gastroenterology, 1977
Contact Information
Primary Location:
Digestive Health Center
1215 Lee St.
Charlottesville, VA 22908
Phone: 434.243.3090 | Fax: 434.244.9415
Biography
David Peura is currently Emeritus Professor of Medicine at the University of Virginia School of Medicine. After graduating from the University of Vermont College of Medicine, he completed internal medicine training at Letterman Army Medical Center and a GI Fellowship at Walter Reed Army Medical Center in Washington, DC. He served on the clinical staff and later became the Chief of Gastroenterology at Walter Reed and Consultant in Gastroenterology to the Army Surgeon General. Retiring from the Army in 1990 with the rank of Colonel, he joined the faculty at the University of Virginia.
Throughout his career, Dr. Peura has been actively involved in clinical investigation relating to acid peptic disorders, particularly peptic ulcer disease, Helicobacter pylori and GERD. He serves as a reviewer for most of the major medicine and gastroenterology subspecialty journals and has authored or co-authored more than 150 original articles, book chapters and reviews on a wide range of digestive disease topics.
Dr. Peura has demonstrated expertise and innovation in the area of medical education and he continues to serve as an advisor and faculty for regional, national and international teaching projects. He has held leadership positions in major national gastroenterology organizations and received numerous commendations and awards for his subspecialty contributions. Dr. Peura served as the 100th President of the American Gastroenterological Association during 2005-06 and was the 2011 recipient of the Julius Friedenwald Medal, the highest honor awarded by the AGA, in recognition of lifelong contributions to the field of gastroenterology. He is an internationally recognized clinician and educator, and a popular speaker in the area of gastrointestinal diseases.
Awards
2011 - AGA Julius Freidenwald Medal
2009 - AMG Francisco Esquivel Rodriguez Medal
2007 - FDHN Mentor's Research Scholar Award
2006 - American Gastroenterological Association Fellow
2004 - Master American College of Gastroenterology
2002 - AGA Distinguished Educator Award