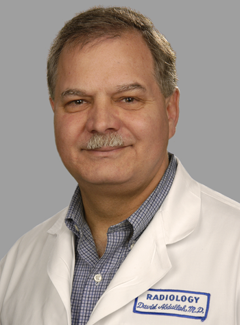 David C Abdullah, MD
Practice Area: Radiology & Medical Imaging, Neurosciences
Department:
Radiology and Medical Imaging
Division: Neuroradiology
Title: Associate Professor of Clinical Radiology
ABMS Certification: Diagnostic Radiology, 1982; Neuroradiology, 1996
Contact Information
Primary Location:
Radiology and Medical Imaging
First Floor
1215 Lee St.
Charlottesville, VA 22908
Phone:
434.982.1736
Biography
Dr. Abdullah has 34 years of postgraduate experience in radiology and neuroradiology, having received training at Wake Forest University, Georgetown University and the National Institute for Health (NIH). Dr. Abdullah is an American Board of Radiology diplomat in both diagnostic radiology and neuroradiology. He also has extensive experience in the private practice of radiology, as a corporate member of two different radiology groups in Florida. Dr. Abdullah is a senior member of the American Society of Neuroradiology (ASNR) and has been an associate professor in UVA's neuroradiology division since 2002. He's involved with all aspects of neuroradiology with a special interest in MR spectroscopy.