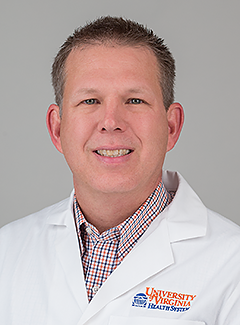 David E Jones, MD
Department:
Neurology
Division: General Neurology Appointment
Title: Assistant Professor
ABMS Certification: Neurology-General
Contact Information
Primary Location:
James Q. Miller Multiple Sclerosis Clinic
University Hospital
Fourth Floor
1221 Lee St.
Charlottesville, VA 22908
Phone: 434.924.8668 | Fax: 434.982.3544
Biography
I grew up in Tampa, FL. I received my B.S. in mathematics and computer science from Stetson University in 1992 and worked as a computer analyst until 1997. In addition, I completed my pre-med classes at UNC-Chapel Hill and graduated from Wake Forest University School of Medicine in 2003. In 2007, I completed my neurology residency at the University of Massachusetts and served as chief resident in the last year of residency. As a resident, I was nominated for AOA Honor Medical Society.
In 2008, I completed a fellowship in neuroimmunology and multiple sclerosis (MS) at UMass as a clinical fellow of the National MS Society. I served as the director of MS Center of Lehigh Valley from 2008-2012. Following that, I became joint faculty as assistant professor of neurology at UVA.
Currently, I serve in a variety of positions, including: the chair of the MS section of the American Academy of Neurology, the co-chair of advocacy for Consortium of MS Centers, a member of the healthcare advisory committee for MSAA and the Multiple Sclerosis Foundation, a member of the board of directors for Can Do MS, a member of the National MS Society Task Force for Access to MS Medications, a member on local board of directors and the healthcare advisory committee for the National MS Society and the co-director of the North American Registry of Care and Research in MS (NARCRMS). My primarily interest is advocating for multi-disciplinary, comprehensive care to patients with multiple sclerosis.
My wife, Jenny, and I have two children: Charlie and Sam. In my free time I like to exercise and garden.
Awards
2016, 2015 Best Doctors in America® List