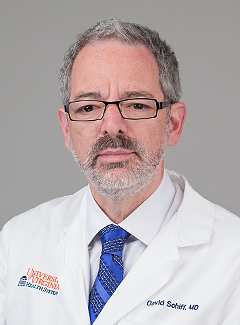 David Schiff, MD
Practice Area: Cancer, Neurosciences
Department:
Neurology
Division: General Neurology Appointment
Title: Professor of Neurology and Neurosurgery
ABMS Certification: Neurology, 1994
Other Appointment: Professor of Medicine
Contact Information
Primary Location:
Neuro Oncology Center
Third Floor
1240 Lee St.
Charlottesville, VA 22903
Phone: 434.982.4415 | Fax: 434.982.4467
Biography
Dr. Schiff is the Harrison Distinguished Professor of Neurology, Neurological Surgery and Medicine. He is the co-director of the UVA Neuro-Oncology Center. His specialties include clinical trials for malignant brain tumors and the management of neurological complications of cancer and its therapies.
Related Media:
UVA Neurosciences Center: Debbie Sinkankis' Story
Awards
2015, 2014, 2013, 2012, 2011 Best Doctors in America® List
2015 One of America's Top Cancer Doctors, Newsweek®
Publications