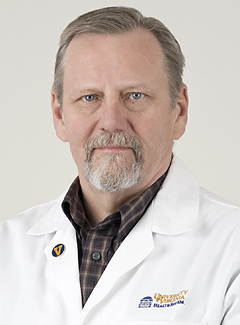 Dennis G Vollmer, MD
Department:
Neurological Surgery
Division: General Neurological Surgery Appointment
Title: Professor
ABMS Certification: Neurosurgery
Contact Information
P.O. Box 800212
Charlottesville, VA 22908
Phone: 434.924.2003 | Fax: 434.243.2656
Other Locations:
Spine Center
Biography
Dennis G. Vollmer, MD, joined the Neurosurgery faculty at the University of Virginia Health System in 2014. He was born in Chicago, Ill., and raised in Connecticut. He attended Vanderbilt University and graduated in 1973 with a BA degree in Biology. He received his MD degree in 1979 from the University of Texas Health Science Center at San Antonio (UTHSCSA) where he was elected to Alpha Omega Alpha in 1978. He completed a surgical internship and neurosurgical residency at the University of Virginia in 1986 and remained there on the Neurosurgical faculty for one year.
In 1987, Dr. Vollmer accepted an appointment as Assistant Professor of Neurosurgery at the University of North Carolina in Chapel Hill and in 1989 was appointed to the Neurosurgical faculty at Washington University in St. Louis also as Assistant Professor. In 1996 he was named Associate Professor and Head of the Division of Neurological Surgery at UTHSCSA. After serving in this capacity for seven years and being promoted to Professor with tenure, Dr. Vollmer was appointed Professor and Vice Chairman of the Department of Neurosurgery at The University of Texas-Houston. He later served as Chairman of the Department and was the program's first residency program director.
In 2008 he entered the private practice of Neurosurgery in Denver. While in private practice, he served as Director of the Gamma Knife Program at Swedish Medical Center, received board certification in Neurocritical Care and was appointed by the governor to serve on the State Emergency Medicine and Trauma Advisory Committee and the State Trauma Advisory Committee.
After five years in private practice, Dr. Vollmer decided to return to academic medicine. He has served on the Editorial Board of the Journal of Neurosurgery, and served as section editor for several textbooks on spinal surgery. He has authored or co-authored numerous chapters in books and peer-reviewed journals.
Awards
2015-2018 Best Doctors in America® List