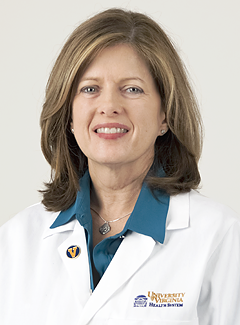 Donna K Broshek, PhD
Department:
Psychiatry and Neurobehavioral Sciences
Division: Neuropsychology
Title: Professor of Psychiatry and Neurobehavioral Sciences
ABMS Certification: Licensed Clinical Psychologist
Other Appointment: Associate Professor of Curriculum, Instruction and Special Education
Contact Information
P.O. Box 800623
Charlottesville, VA 22908-0623
Phone: 434.924.2718 | Fax: 434.243.6546
Other Locations:
Acute Concussion Evaluation Clinic
Awards
My father was an officer in the Air Force, so I had a rather exotic childhood. I was born in Casablanca, Morocco, and I lived in the suburbs of Paris as child. My weekends were spent visiting castles and other amazing sights in the French countryside. I also lived in California, Germany, Northern Virginia, Georgia (twice), Louisiana and Maryland. While I lived in the DC suburbs and Georgia for several years, I have now lived in Charlottesville longer than anywhere else and consider it my home.
I earned my doctorate at George Mason University and then completed my clinical psychology internship and postdoctoral fellowship in neuropsychology at UVA. I've been on the faculty as a neuropsychologist since 1998, and I direct the Neurocognitive Assessment Lab and co-direct the Brain Injury and Sports Concussion Clinic. Although I see patients with multiple medical and neurologic issues, most of my clinical and research interests are in epilepsy and sports concussion. I'm on the Professional Advisory Board for the Epilepsy Foundation, serve as the president-elect of the Sports Neuropsychology Society and am a member of the NBA Concussion Committee. I am also on concussion committees of local schools and promote individualized care of athletes and other patients who sustain concussions. Balancing science and compassion in clinical care is my personal goal.
I often tell people that Charlottesville is my second favorite city next to Paris. I love the beauty of the countryside, the amazing restaurants, wineries, UVA sports teams and the good-natured and good-humored people that tend to make their way to Charlottesville. I also enjoy traveling, especially to warm climates, and dancing is my favorite form of exercise. I taught dance to preschoolers when I was in college, and that's where I learned how to have infinite patience.