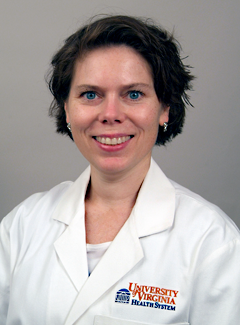 Ellen C Keeley, MD
Department:
Medicine
Division: Cardiovascular Medicine
Title: Professor
ABMS Certification: Cardiovascular Disease; Interventional Cardiology
Contact Information
Primary Location:
Heart and Vascular Center
Second Floor
1215 Lee St.
Charlottesville, VA 22908
Phone: 434.243.1000 | Fax: 434.244.7551
Other Locations:
Cardiac Catheterization Lab
Biography
Ellen Keeley, MD, runs the UVA Post-MI Clinic, where she sees patients who have been discharged after a heart attack, with the goal of reducing the risk of readmission and adverse cardiac events. She also performs coronary interventions in the cardiac catheterization lab and cares for patients in the coronary care unit.
Dr. Keeley is associate program director for research for UVA's Cardiology Fellowship Program and is a professor of internal medicine in the Division of Cardiovascular Medicine. She is board-certified in both cardiovascular disease and interventional cardiology.
Born in Brigantine, NJ, Dr. Keeley completed her undergraduate studies at St. Joseph's University and earned her medical degree from Jefferson Medical College, both located in Philadelphia. She completed her internal medicine residency at Jefferson University Hospital, a three-year clinical cardiology fellowship at the University of Texas Southwestern Medical Center and a two-year interventional cardiology fellowship at William Beaumont Hospital in Royal Oak, MI. She joined the faculty at UVA in 2006, earning a Master of Science in clinical research from UVA two years later.
Dr. Keeley is married to fellow UVA faculty member Borna Mehrad, MBBS, a pulmonologist and basic science researcher. They have one daughter.
Awards
2015 Resident Mentor Award, The University of Virginia Internal Medicine Residency Program
2014 Excellence in Mentoring Award, The University of Virginia School of Medicine
2013 Inducted into the Academy of Distinguished Educators, The University of Virginia School of Medicine
2013 J. Edwin Wood, Jr. M.D. Attending Teaching Award, The University of Virginia School of Medicine, Division of Cardiology
2012 Inducted into the University of Virginia's Millipub Club
2011 Internal Medicine Chief Residents' Award for Excellence in Resident Mentorship, The University of Virginia School of Medicine
1999 Cardiology Attending Teaching Award, Henry Ford Hospital
1991 Intern of the Year, Thomas Jefferson University Hospital
1990 Simpson Pulmonary Award, Inducted into the Hobart Hare Honorary Society, Jefferson Medical College
1989 Honors in Ambulatory Care Medicine, Internal Medicine, Cardiology and Pulmonary Medicine, Jefferson Medical College
Publications