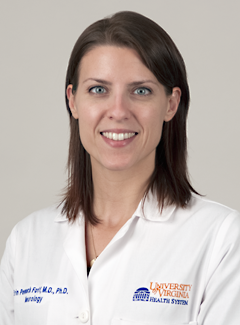 Erin Pennock Foff, MD, PhD
Department:
Neurology
Division: General Neurology Appointment
Title: Assistant Professor
ABMS Certification: General Neurology
Contact Information
P.O. Box 800394
Charlottesville, VA 22908
Phone:
434.924.8371
Other Locations:
Memory and Aging Care Clinic
Biography
Erin Foff is an Assistant Professor of Neurology. She received her Ph.D. in Molecular and Human Genetics from Baylor College of Medicine (Houston, TX) and her medical degree from the Jefferson Medical College in Philadelphia, PA. Following neurology residency at the University of Virginia, she completed a research fellowship in nucleotide repeat disorder biology at the University of Virginia. She has a basic science laboratory where her team conducts research on several nucleotide repeat disorders, including frontotemporal dementia/ALS and myotonic muscular dystrophy. Dr. Foff sees patients with neurodegenerative diseases causing cognitive complaints, and she specializes clinically in early onset dementias, frontotemporal dementia and the primary progressive aphasias. She lives in Charlottesville with her husband and two children.