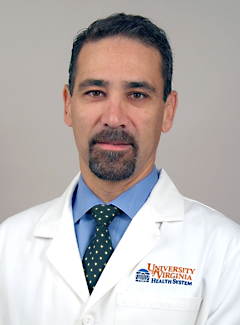 George M Hoke, MD
Department:
Medicine
Division: General Internal Medicine Appointment
Title: Associate Professor of Clinical Internal Medicine
ABMS Certification: Internal Medicine
Contact Information
Primary Location:
University Hospital
1215 Lee St.
Charlottesville, VA 22908
Phone: 434.243.4288 | Fax: 434.243.7310
Biography
Dr. Hoke graduated from the University of Maryland School of Medicine in 1995 and completed his residency in Internal Medicine at the University of Virginia in 1998. He spent 8 years working as an Academic Hospitalist at St. Agnes Hospital in Baltimore, Maryland before returning to UVA to start a new Academic Hospitalist Program in 2006. George is a passionate supporter of efforts to improve the quality of care provided throughout the medical center. George's wife, Tracey, is also a physician at UVA in the Department of Pediatrics. They have two wonderful daughters whom George loves to coach in soccer. He is also an avid gardener and local "foodie."
Awards
1993 - Alpha Omega Alpha Medical Honor Society 1994 - Cohen Award for personal attributes of scholarship, ability and compassion for patients; University of Maryland School of Medicine, Baltimore, MD 1997 - Leroy Dunn award in recognition of medical skills, kindness and concern for the well-being of patients; University of Virginia Health Sciences Center, Charlottesville, VA 2002 - Teaching Attending of the Year, Department of Medicine, St. Agnes Hospital, Baltimore, MD 2006 - Mohler Award for Distinguished Service, St. Agnes Hospital, Baltimore, MD 2009 - Fellow, Society of Hospital Medicine