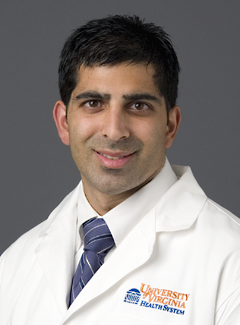 Biography
Dr. Gorav Ailawadi is an Associate Professor of Surgery at the University of Virginia. He is certified by the American Board of Thoracic Surgery and the American Board of Surgery. His specialty interests include all aspects of adult cardiac surgery, valvular heart disease, coronary artery disease, surgery of the thoracic aorta, minimally invasive cardiac surgery, percutaneous valve therapy, off-pump coronary artery bypass surgery, and surgery for arrhythmias.
Dr. Ailawadi was raised in Maryland and New Jersey and attended an accelerated Honors Program in Medical Education at Northwestern University receiving his undergraduate and medical degrees in 1998. Here, he received the top awards for best overall student and top surgical student and was elected to the Alpha Omega Alpha Honor Society.
He trained at the University of Michigan in general surgery where he spent two years dedicated to understanding why aortic aneurysms develop. His work was recognized by the NIH/ Lifeline Association and was chosen as the top research project in 2003. While at Michigan, Dr. Ailawadi was selected as the Chief Resident in surgery and received the top Resident and Young Investigator Awards. He then completed his training as a Chief Resident at the University of Virginia for Thoracic & Cardiovascular Surgery and joined the faculty in 2007.
Dr. Ailawadi's laboratory collects tissue from patients undergoing aneurysm surgery and studies why and how they form in order to develop new treatments. He has been the principal investigator in a novel clip on the heart to try to prevent strokes associated with open heart surgery. He is widely published in scientific and professional journals on topics related to his research and clinical experience and his specialty interests including the journals Annals of Surgery, Journal of Thoracic and Cardiovascular Surgery and Annals of Thoracic Surgery. He has been invited to national and international conferences to share his surgical expertise with novel minimally invasive approaches.
Dr. Ailawadi is a Fellow in the American College of Surgeons and a member of the Society of Thoracic Surgeons, the Southern Thoracic Surgical Association, and the American Heart Association. In his leisure time, Dr. Ailawadi enjoys exercise and sports.
Related Media:
Treatment Options for Heart Valve Conditions
Publications