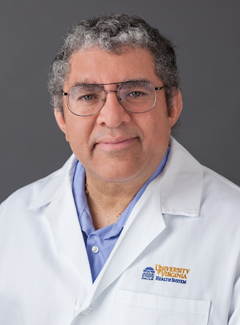 Gregory C Townsend, MD
Department:
Medicine
Division: Infectious Diseases and International Health
Title: Associate Professor of Medicine and Clinical Instructor of Pediatrics
ABMS Certification: Infectious Disease, 2005
Contact Information
Primary Location:
Ryan White HIV Clinic
Elevator D, Fifth Floor, Hospital Drive Entrance
1300 Jefferson Park Ave.
Charlottesville, VA 22908
Phone: 434.982.1700 | Fax: 434.982.4054
Biography
Gregory Townsend, MD, is an associate professor of internal medicine in the Division of Infectious Diseases and International Health at UVA. He specializes in treating patients with HIV and sees patients at the Ryan White HIV Clinic.
Dr. Townsend attended the College of William and Mary and earned his medical degree from UVA. He completed his residency in internal medicine and pediatrics at West Virginia University Hospitals, and then returned to UVA for his fellowship training in infectious diseases. He joined the faculty in 1993, and in 2014 was named associate dean for diversity and medical education.