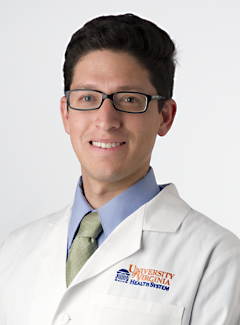 Guillermo Solorzano, MD
Department:
Neurology
Division: General Neurology Appointment
Title: Associate Professor of Neurology
ABMS Certification: Neurology Neuromuscular Medicine
Contact Information
1215 Lee Street
P.O. Box 800394
Charlottesville, VA 22908
Phone:
434.924.2706
Biography
Dr. Solorzano is a board certified general neurologist with a subspecialty certification in neuromuscular medicine. His practice is currently focused as a neurohospitalist. In this capacity, he is involved in the acute management of neuromsucular disorders, encephalopathy, multiple sclerosis, headaches, encephalitis and other neurological disorders needing inpatient care. As a member of the neuromuscular division he participates in the clinical management and diagnosis of neuromuscular diseases.
Related Media: