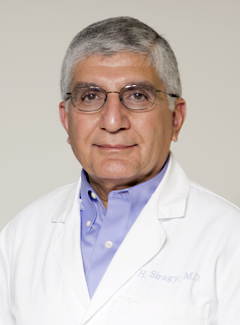 Helmy M Siragy, MD
Department:
Medicine
Division: Endocrinology and Metabolism
Title: Professor of Internal Medicine
ABMS Certification: Internal Medicine, 1985; Endocrinology, Diabetes and Metabolism, 1991
Contact Information
Primary Location:
Primary and Specialty Care Zion Crossroads
UVA Medical Park Zion Crossroads
1015 Spring Creek Parkway
Gordonsville, VA 22942
Phone: 434.243.9466 | Fax: 434.243.9499
Biography
Helmy M. Siragy, M.D., FACP, FAHA is the Harrison Distinguished Chair of Excellence in Medical Education and Professor of Medicine and Endocrinology. An international expert on subjects related to hypertension, Dr. Siragy was the first to discover that stimulation of angiotensin AT2 receptor leads to generation of nitric oxide. Siragy has authored more than 300 medical journal articles and abstracts, and numerous medical textbook chapters, including a chapter on the kidney and the renin angiotensin system in the Braunwald Atlas of Heart Diseases; a chapter on angiotensin and diabetic nephropathy in Harrison's on-line textbook of Medicine; and a chapter on the angiotensin receptor in Hypertension: A Companion to Brenner. Dr Siragy's primary research interests are in the areas of the renin-angiotensin system, cardiac ischemia, diabetic nephropathy and (Pro)Renin receptor.

Dr. Siragy is a fellow of the American College of Physicians and the American Heart Association, and a member of numerous national and international endocrine and hypertension societies. He serves as a grant reviewer for the National Institutes of Health and the American Heart Association, among other organizations, and is on the editorial boards of journals in the areas of hypertension, endocrinology, and vascular biology. He edits the section on Antihypertensive Agents: Mechanisms of Drug Action for the journals Current Hypertension Reports and Current Hypertension Reviews.