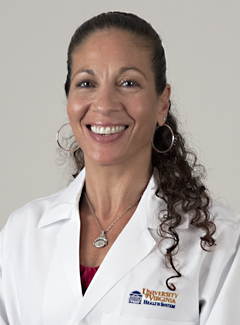 Biography
Dr. Stephens is a board certified Pediatrician and Pediatric Infectious Diseases subspecialist. She received her medical degree from Wake Forest University School of Medicine and completed her residency and chief residency in Pediatrics, both at Wake Forest University. She received her sub-specialty fellowship degree in Pediatric Infectious Diseases at the Center for Vaccine Development from the University of Maryland.
From 1997-2007, she served as the Chief of Pediatric Infectious Diseases division and Program Director of the Pediatric Residency Training Program at the Children's Hospital at Sinai in Baltimore, MD.
From 2007-2010, she joined the faculty at the Center for Vaccine Development and the University of Maryland Hospital for Children as Chief of the Pediatric Infectious Diseases Clinical Service, Program Director of the Pediatric ID fellowship program, Associate Program Director of the Pediatric Residency Program and as Principal Investigator on multiple clinical pediatric vaccine trials with particular interest in influenza, RSV, meningococcus and MRSA. She served on the Governor's Scientific Advisory Board for Pandemic H1N1 preparedness and response for the state of Maryland and served as Chairman of the Pediatric Infectious Diseases Section for the Maryland Chapter of the American Academy of Pediatrics.
In 2010, Dr. Stephens joined the faculty at University of Virginia School of Medicine as Associate Professor of Pediatrics and Medical Education. She currently practices general pediatrics at Northridge Pediatrics and at By Your Side Pediatrics.
Dr. Stephens is certified as a Personal Trainer with the National Academy of Sports Medicine and is certified with Yoga Alliance as an RYT. She has taught yoga to both adults and children, with a particular interest in teaching child with special needs, autism and obesity. Dr. Stephens lives with her husband and three children in Charlottesville, VA.
Awards
Excellence in Teaching Award - The Children's Hospital at Sinai, 1999
Excellence in Teaching Award - The Children's Hospital at Sinai, 2003
Excellence in Teaching Award - University of Maryland Hospital for Sick Children, 2009
Commencement Speaker - Graduation of Pediatric House Staff, University of Maryland Hospital for Sick Children, 2009
Harvard-Macy Scholar, Program for Health Professionals in Medical Education, Harvard Medical School, 2011
Publications