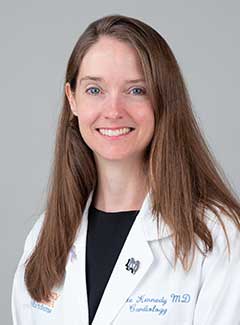 Jamie L W Kennedy, MD
Department:
Medicine
Division: Cardiovascular Medicine
Title: Assistant Professor of Cardiology
ABMS Certification: Internal Medicine; Cardiovascular Disease; Advanced Heart Failure/Transplant Cardiology
Other Appointment: Medical Director, Coronary Care Unit
Contact Information
Primary Location:
Advanced Heart Failure and Transplant Center
Second Floor
1221 Lee St.
Charlottesville, VA 22908
Phone: 434.243.1000 | Fax: 434.244.7551
Biography
Dr. Kennedy completed her undergraduate studies at the University of Notre Dame and medical school at Indiana University. She completed residency and fellowship here at the University of Virginia, including advanced training in Heart Failure and Transplant Cardiology. She is a member of the International Society for Heart & Lung Transplantation, the Heart Failure Society of America, and the Pulmonary Hypertension Association.
Related Media:
A Heart Failure Patient's Story
Treating Heart Failure in Charlottesville and Central Virginia
Publications