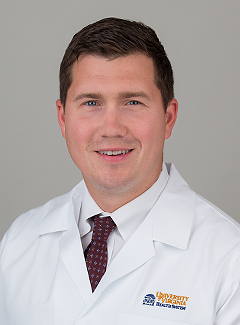 Jeffrey R. Golen, MD
Department:
Ophthalmology
Division: Ophthalmology
Title: Assistant Professor
Contact Information
Primary Location:
Eye Clinic
1300 Jefferson Park Ave.
Charlottesville, VA 22908
Phone: 434.924.1184 | Fax: 434.244.9436
Biography
Jeffrey R. Golen, MD, is an ophthalmologist specializing in corneal and cataract surgery, as well as management of complex corneal and ocular surface disease. His surgical interests include corneal transplantation, ocular surface surgery, refractive surgery, refractive cataract surgery and keratoprosthesis (Boston KPro). He is especially interested in learning and developing new surgical techniques, devices and platforms.
Dr. Golen earned his undergraduate degree in biology from the University of Notre Dame. He earned his medical degree from the University of Cincinnati and completed a residency in ophthalmology at the University of South Florida. He then moved to the west coast for fellowship training in cornea, external disease and refractive surgery at the F.I. Proctor Foundation at the University of California, San Francisco.
Outside of work, he enjoys traveling, learning new sports, weight training, martial arts and outdoor activities including hiking, cycling and skiing.
Related Media:
UVA House Call - Dr. Jeff Golen on New Surgery for Cataracts