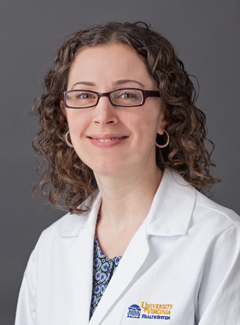 Jessica D. Lewis, MD
Department:
Medicine
Division: Infectious Diseases and International Health
Title: Assistant Professor
Contact Information
Primary Location:
Infectious Diseases Clinic
Fifth Floor, Outpatient Clinic
1300 Jefferson Park Ave.
Charlottesville, VA 22908
Phone: 434.982.1700 | Fax: 434.924.0075
Biography
Jessica D. Lewis, MD is a native of Maryland. She completed her undergraduate education at Saint Mary's College of Maryland and attended medical school at the University of Maryland at Baltimore. She then moved to Virginia where she completed her residency training in internal medicine at UVA in 2011. She served on the faculty of UVA as a hospitalist at the Transitional Care Hospital for one year before beginning fellowship training in infectious diseases at UVA in 2012.
Dr. Lewis joined the clinical faculty in 2015. Her clinical focus is on infections in the immunocompromised host, including solid organ transplant recipients, stem cell transplant recipients and patients with hematologic malignancies, among others. Her research focuses on the epidemiology and prevention of infections caused by multidrug-resistant organisms in the immunocompromised host.
Awards
Publications