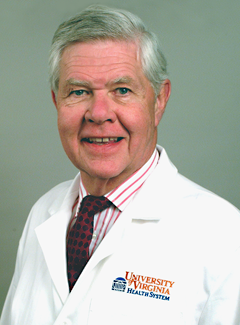 John C. Marshall, MD
Practice Area: Pituitary, Diabetes & Metabolism, Cancer, Neurosciences & Behavioral Health
Department:
Medicine
Division: Endocrinology and Metabolism
Title: Professor of Internal Medicine
ABMS Certification: Member and Fellow, Royal College of Physicians, 1967; Internal Medicine, 1978; Endocrinology and Metabolism, 1981
Other Appointment: Director, Center for Research in Reproduction
Contact Information
Primary Location:
Diabetes and Endocrine Clinic
Fontaine Research Park
Second Floor, Suite 2100
415 Ray C. Hunt Dr.
Charlottesville, VA 22903
Phone: 434.982.3591 | Fax: 434.924.5894
Other Locations:
Pituitary Clinic
Biography
John C. Marshall, MD, PhD, is the Andrew D. Hart Professor of Medical Science at the University of Virginia, and was appointed director of the Center for Research in Reproduction in 1996. Dr. Marshall received his MD and PhD degrees at Victoria University of Manchester (UK). His research focuses on physiological control of gonadotropin subunit gene expression, and clinical studies of the origins of abnormal hypothalamic functions in polycystic ovarian syndrome (PCOS).
Awards
2015, 2014, 2013, 2012, 2011, 1990 Best Doctors in America® List
2008 Clinical Investigator Award of the Endocrine Society
2001 Pharmacia Corporation International Award for Excellence in Published Clinical Research - Finalist Award (Clinical Research Papers published in J. Clin. Endo. Metab. In 2000)
1997 Awarded Transatlantic Medal of the Society for Endocrinology (UK)
1991 Awarded Clinical Endocrinology Trust Medal (UK)
1974 Awarded Welcome Senior Research Fellowship in Clinical Science to work in the Department of Medicine, University of Birmingham
1973 Awarded Gold Medal for M.D. Thesis, (Post-Graduate Doctoral Degree, Ph.D. in the Faculty of Medicine), Victoria University of Manchester
Awarded Medical Research Council Traveling Fellowship to work in the Department of Medicine, University of California at Los Angeles, with Professor W.D. Odell