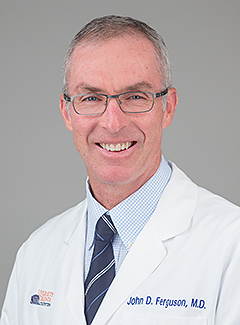 John D Ferguson, MD, MBChB
Department:
Medicine
Division: Cardiovascular Medicine
Title: Professor
ABMS Certification: American Board of Internal Medicine, 2013 Cardiovascular Disease, 2014
Other Appointment: Director of Electrophysiology
Contact Information
Primary Location:
Heart and Vascular Center
Second Floor
1215 Lee St.
Charlottesville, VA 22908
Phone: 434.243.1000 | Fax: 434.244.7551
Other Locations:
Specialty Care Augusta
Biography
John Ferguson, MD, MBChB, is the director of electrophysiology and a professor in the Division of Cardiovascular Medicine at UVA. He specializes in evaluating and treating electrical disorders of the heart.
Born in Johannesburg, South Africa, Dr. Ferguson attended the University of Cape Town for his undergraduate and medical school education and completed his residency training at Groote Schuur Hospital in Cape Town, South Africa. He then moved to Oxford, England, where he completed a fellowship in clinical cardiac electrophysiology medicine and cardiology at John Radcliffe Hospital.
In 2001, Dr. Ferguson came to UVA for a second fellowship in electrophysiology. He joined the faculty as an assistant professor in 2003. He is married with two children.
Related Media:
Atrial Fibrillation and Heart Care at UVA
UVA Heart Center: Commercial Airline Pilot Shares His Struggles with Atrial Fibrillation
Publications