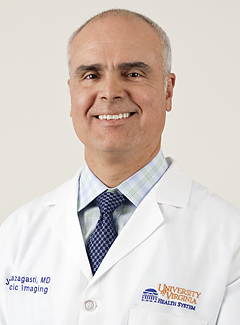 Juan M Olazagasti, MD
Department:
Radiology and Medical Imaging
Division: Body Imaging
Title: Associate Professor of Clinical Radiology
ABMS Certification: Radiology
Other Appointment: Medical Director for Medical Student Radiology Clerkship
Contact Information
Primary Location:
Radiology and Medical Imaging
First Floor
1215 Lee St.
Charlottesville, VA 22908
Phone: 434.982.6018 | Fax: 434.982.6457
Biography
Dr. Olazagasti completed his residency at Louisiana State University in 1996, and a pediatric imaging fellowship at Egleston's Children Hospital in Atlanta in 1997. At UVA since 2001, he currently serves as the medical director for radiology education in the school of medicine, thread leader for radiology in the new graduate curriculum and as a member of the UVA School of Medicine curriculum committee.
As a member of the body imaging division, Dr. Olazagasti's specializes in interpreting images of thoracic diseases. He also performs image-guided percutaneous interventional procedures, including soft tissue, lung nodule and lymph node biopsies and percutaneous drainages.
Awards
2005 Deans Award for Excellence in Teaching, University of Virginia School of Medicine
2005 Academy of Distinguished Educators, University of Virgina School of Medicine
2000 Teacher of the year, Medical University of South Carolina