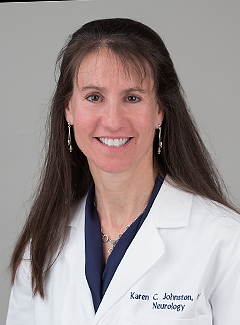 Karen C Johnston, MD, MSc
Department:
Neurology
Division: General Neurology Appointment
Title: Professor and Chair of Neurology and Public Health Sciences
ABMS Certification: Neurology, Active; Vascular Neurology, Active
Other Appointment: Chair, Department of Neurology
Contact Information
P.O. Box 800394
Charlottesville, VA 22908-0394
Phone: 434.924.5323 | Fax: 434.982.1726
Biography
Dr. Johnston is the Harrison Distinguished Professor and chair of neurology and professor of public health sciences at the University of Virginia. She graduated from medical school at the University of Rochester School of Medicine in 1991. She did her neurology residency at the University of Rochester Strong Memorial Hospital and a vascular neurology fellowship at the University of Virginia. She joined the UVA faculty in 1997 and obtained a master's degree in outcomes research and clinical investigation in 1999. She is board certified in general neurology and vascular neurology. She was the vice chair of research for the Department of Neurology prior to becoming chair and is an Executive Leadership in Academic Medicine (ELAM) graduate from 2006.
Dr. Johnston's research has focused on treatment and outcomes in acute ischemic stroke and she is the principle investigator on numerous NIH funded grants. She participates in numerous NIH-NINDS study sections and data safety monitoring committees and is chair of the NIH-NINDS clinical research collaboration (CRC) advisory team. She was an associate editor of the journal Neurology and the founding editor of the neurology resident and fellow section. She maintains a strong commitment to education and mentoring. She was the founding chair of the University of Virginia's Academy of Distinguished Educators and is the director of the UVA internal K12 scholars program for career development in clinical and translational research. She is currently the director of the ANA Junior Faculty Career Development Symposium, the AAN Research Career Development Symposium and the NINDS Clinical Trials Methods Course Career Development Program.
Dr. Johnston sees vascular neurology (stroke) patients and general stroke patients.
Awards
2015-2018 Best Doctors in America® List