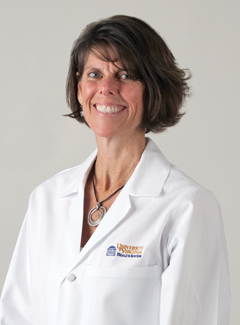 Karen Maughan, MD
Department:
Family Medicine
Division: General Family Medicine Appointment
Title: Associate Professor of Family Medicine
ABMS Certification: American Board of Family Physicians, 1996, 2002; Canadian College of Family Physicians, 1993.
Contact Information
Primary Location:
Family Medicine
University Hospital
First Floor
1221 Lee St.
Charlottesville, VA 22908
Phone: 434.924.5348 | Fax: 434.423.2916
Biography
Our Family Medicine Department is a wonderful place to learn, teach, and grow personally. Our faculty and residents create an exciting and dynamic environment that demonstrates a commitment to clinical excellence, active learning, and supportive mentoring. I studied medicine and completed residency training in Canada before coming to UVA for a Fellowship in Family Medicine in 1993.
I fell in love with Charlottesville, stayed, and worked in a busy private practice in town for almost 2 years and learned a tremendous amount. While in private practice, I often taught medical students in my office. I enjoyed private practice, but was drawn to the academic aspect of a residency program and wanted to further develop my teaching experience. I also missed practicing OB which is one of the things I love best about practicing Family Medicine.
I joined the Family Medicine faculty at UVA in 1996. I enjoy the entire spectrum of Family Medicine and have a special interest in women's health, obstetrics, and the care of young families. I enjoy the opportunities for teaching and learning with our residents through the challenges of patient care. I was the director of our Family Medicine clerkship for seven years and am excited to now be the assistant director of the Family Medicine Residency. I have always valued my time teaching and working with our residents in clinic, on labor and delivery and the wards, and this role allows me to formalize those relationships as well as to be intimately involved in curriculum development.
More personally, I am happily married and have 3 children (Will, Henry, and Katherine). My husband, Peter is also a faculty member in our department.
Awards
2015-2018 Best Doctors in America® List