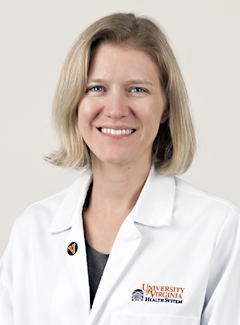 Kelly G Gwathmey, MD
Department:
Neurology
Division: General Neurology Appointment
Title: Assistant Professor
ABMS Certification: Neurology 2011 Neuromuscular Medicine
Contact Information
P.O. Box 800394
Charlottesville, Va 22908
Phone:
434.982.6551
Other Locations:
Adult Neurology Clinic
Biography
I was born and raised in Richmond, VA. I attended Emory University in Atlanta, GA, and Eastern Virginia Medical School in Norfolk, VA.
I started at UVA in 2013. My specialty is neuromuscular neurology. I completed a fellowship in clinical neurophysiology at UVA and a fellowship in neuromuscular medicine at the Partners program in Boston, MA (Massachusetts General Hospital and Brigham and Women's Hospital combined). I currently serve as the clinical neurophysiology fellowship director.
I am married to Winston Gwathmey, an orthopedic surgeon here at UVA. We have two children: Cate and Robert. We enjoy going to UVA sporting events, particularly baseball and basketball. I also enjoy hiking, going for walks and cooking.